<< Back to Calendar
Virtual Spring PDD Meeting
Strategic Business Management skills
Due to health concerns related to the spread of the COVID-19, the program will be delivered to the members via webinar at a reduced cost. This event is open to all PMI members and non-chapter members.
If you are a PMI member from another chapter, please register as a non-chapter member for this event and self-report your PDU credit.
We will host this event via Hopin. We will invite all paid attendees to register via Hopin with a passcode 2 days before the event to the email address entered at time of registration. 
Program: "Shaping the Future Together"
---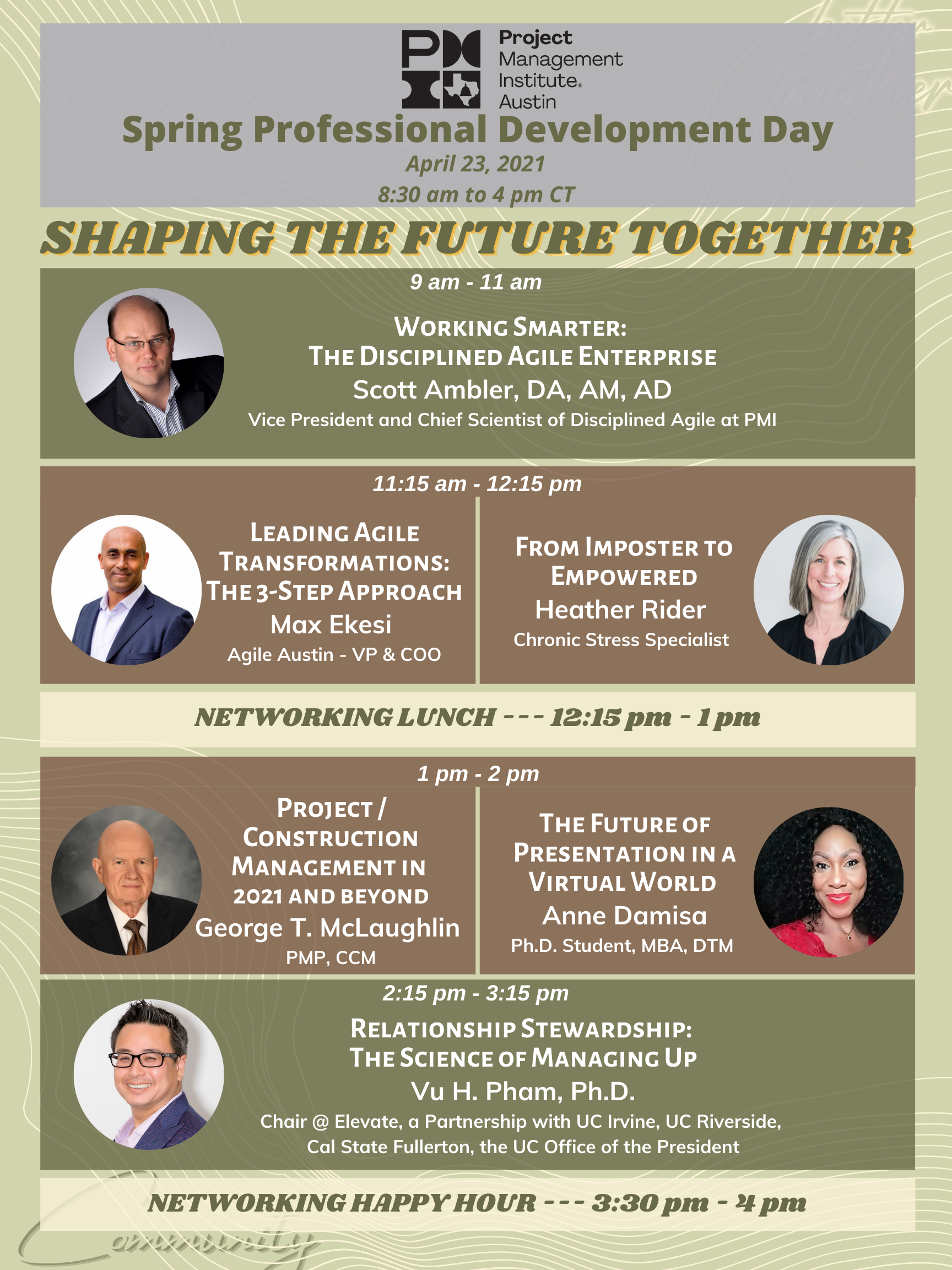 Panel:
Keynote Speaker: Scott Ambler, DA, AM, AD

Scott is the Vice President, Chief Scientist of Disciplined Agile at Project Management Institute. Scott leads the evolution of the Disciplined Agile (DA) tool kit and is an international keynote speaker. Scott is the (co)-creator of the Disciplined Agile (DA) tool kit as well as the Agile Modeling (AM) and Agile Data (AD) methodologies. He is the (co-)author of several books, including Choose Your WoW!, An Executive's Guide to the Disciplined Agile Framework, Refactoring Databases, Agile Modeling, Agile Database Techniques, and The Object Primer 3rd Edition. Scott blogs regularly at ProjectManagement.com and he can be contacted via pmi.org.

Twitter: scottwambler LinkedIn: https://www.linkedin.com/in/sambler/

Maximillian (Max) Ekesi

Max Ekesi has 20 years of IT experience in various roles in People Management, Agile/Scrum Coaching, Portfolio/Program Management, and presently is an Enterprise Agile Coach at Whole Foods (Amazon subsidiary). Max has various Agile, Scrum, SAFe certifications and has been leading large scale Agile IT Transformations in Fortune 30 companies since 2007.

Max has been a member of Agile Austin for over 10yrs and serves on the Board as VP. He also founded and facilitates the Agile Austin Leaders SIG since 2011 and appreciates ideas and prospective that emerge from our lively monthly sessions!

He regularly speaks at conferences, meetups, and other Agile speaking engagements. In his spare time Max likes to play/watch/coach soccer and travel the world with his wife and two daughters.

Anne Damisa, PhD

Anne Damisa is a PhD Communication Scholar, Motivational and Inspirational Speaker, award-winning Journalist and Project Management Communication Consultant. After earning Toastmasters highest public speaking and leadership educational award- Distinguished Toastmasters (DTM) Award. Anne went from being a student of public speaking to becoming a public speaking trainer, mentor, and coach. Former Division Director with Toastmasters International, she has trained, mentored, and coached over 500 public speaking students. Anne is very proud of her TRIPLE CITIZENSHIP. Anne describes herself as a Nigerian citizen by birth, an American citizen through naturalization and most importantly, a citizen of Heaven through the Holy Spirit. A self-acclaimed SOCIAL MEDIA EVANGELIST, she enjoys spreading the gospel via vlogging and blogging on Facebook, Twitter, Instagram, and LinkedIn platforms.

George T. McLaughlin, PMP, CCM

Mr. McLaughlin is a principal in McLaughlin and McLaughlin, an international project planning and management consulting firm. He provides Program and Project Management as well as Dispute Resolution (Claim Preparation, Litigation Support and Testimony) and other similar services. He provides domestic and international clients with project planning and management services and advice. He provides training and workshops on a worldwide basis on topics that include planning and management of large and complex projects.

Mr. McLaughlin has been Program or Project Manager on Hydrogen Plant, Sulphur Recovery Plant, Data Center Program, Refinery Retrofit and Pharmaceutical Manufacturing. During this same period, he has project managed and technical managed seven major disputes with total value of approximately $600 million. He has provided services in the following project types: Oil Sands Downstream/Upgrading, Carbon Monoxide Plant, Ethanol Production, LNG Terminal / Production, Desulphurization, Power Generation (gas fired, geothermal, biomass), Pharmaceutical Manufacturing, Hot Briquetting Iron, Piping Manufacturing and others.

Mr. McLaughlin has spoken before the Austin PMI (since 2012), Houston PMI, AACE, EVM World, Associated General Contractors of America (AGC), Associated Builders and Contractors as well as other international organizations. He is certified PMP, certified CCM, and a licensed General Contractor in California. He is a member of College of Performance Management, PMI Austin and Houston, Society of Construction Law, American Bar Association, The State Bar of Texas (Construction Law Section) and AGC. Mr. McLaughlin holds a BS (US Naval Academy), MS (Catholic University of America) and MBA (The Wharton School). His profile is on LinkedIn.

Heather Rider

Heather Rider is an anxiety coach and Imposter Syndrome educator who personally overcame high-functioning anxiety and Imposter Syndrome while working in a demanding Tech job.

She works with clients from all over the world who want to take a nontraditional, holistic approach to healing anxiety. She regularly writes and presents on the issues of perfectionism, Imposter Syndrome, high-functioning anxiety, and other anxiety related topics.

Vu H. Pham, Ph.D.

As the Chair of Elevate, Vu H. Pham, Ph.D. works with dozens of organizations from the Fortune 500 to government and non-profit agencies. Elevate is a partnership with the University of California, Irvine's Merage School of Business, UC Riverside, California State University Fullerton, UC Office of the President – MESA, and Spectrum Knowledge. The Elevate Program boots organizational performance and strategic effectiveness through interactive training and data-driven research.

Dr. Pham and his work have been featured on national and international multimedia venues, such as CNN, MSNBC, the Associated Press, Fortune, Voice of America, The Los Angeles Times, KSCI International Television, Diversity, Inc., Strategic Innovators, Asian Week, and Radio Free Asia. He has given keynote speeches on numerous occasions and presented at many conferences internationally, and has written for both academic and mainstream publications. Beyond his professional work, Dr. Pham has participated in generating over a million dollars for non-profit groups and donates many hours to them.
Registration will be closed 2 days before the event day & the meeting link will be sent out the night or morning before the event.
---
Questions
For any issues with registration or questions about claiming PDUs, email VP of Professional Development.
It is no longer possible to register for this event