Lunch n Learn (Virtual) - The Tay Bridge Disaster
Presentation Title 

The Tay Bridge Disaster: A study in Ethical Failure

Description

The Tay Bridge opened to great fanfare on 1st of June 1878. The longest iron bridge in the world.  It was a key link in the Scottish east coast railway line.

For the main players it brought honours and business success. But that success was short lived.

On the night of 28th of December 1879, in one of the worst storms in living memory, the bridge collapsed, taking with it the Edinburgh train and 59 passengers.

The subsequent public inquiry and later analysis identified several technical failures.

But this is a tale of an inspirational project, a pinnacle of Victorian engineering, that was undermined by greed and lack of leadership.

Learning Objectives for Presentation 

A project manager's responsibility to ensure public safety above that of financial gain.

The importance of the selection and supervision of a competent workforce.

"The first principle is that you must not fool yourself and you are the easiest person to fool." Richard Feynman

Key Takeaways for Participants 

Do not fool yourself

Be prepared to resist pressure to compromise ethical standards

Cumulative small compromises can lead to disaster
Speaker Bio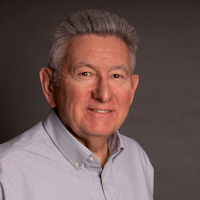 Jim "The History PM" Benvie PMP, DTM, is a project manager and speaker with TyauvinOn Solutions. A lifelong student of history, he has four decades of project & operations management experience. Jim is the creator of "The History PM" blog and YouTube channel. His blog and presentations, provide inspiration and examples from history for project managers and leaders. The concept is not simply to copy historical precedents, but to use them to expand your awareness, develop your thinking, and stimulate your curiosity. Do not expect, "Five simple steps to becoming a stellar project manager", instead expect "Some assembly required". He believes that—like Aesop's Fables—you will find his presentations engaging and informative.
A long-term volunteer with PMI Houston, he lives with his wife Juliet in the Tomball area and his interests are reading, studying history, and cycling.
Previous Speaking Experience
List your most recent speaking experience (maximum 150 words) 
PMI Nashville LnL 29th November 2022   Tay Bridge Disaster 
PMI Houston Monthly Meeting 17th November 2022 Tay Bridge Disaster
PDH Engineer LnL 9th November 2022 Why Projects Fail
PMI Clear Lake Monthly Meeting 27th October 2022 General Slim and the 14th Army
PDH Engineer Conference 6th September 2022 Tay Bridge Disaster
PMI Houston Conference 1st August 2022  Emily Warren Roebling and the Brooklyn Bridge
PMI Austin Chapter is always looking for new local charities to host our Lunch & Learn sessions. If you know of any charities to highlight, please email our Lunch & Learn Committee Chair at LunchNLearn@pmiaustin.org. 
The meeting link and instructions will be emailed to you upon registration within your receipt. 
It is no longer possible to register for this event