<< Back to Calendar
In-Person Professional Development Day – Spring 2022
Spring 2022 Professional Development Day (PDD) : The Future of Project Management
We're back! Our day-long PDD will be both an in-person and virtual workshop experience for Spring 2022. Don't miss out on the opportunity to expand your project leader and changemaker toolkit. Whether you're a seasoned or new project professional, this this full day interactive journey will provide you with the skills to drive change and broaden your perspective.
Learn from industry thought-leaders as they share vital project management skills needed to be successful in the future. Earn upto 9 PDUs (Technical, Strategic, and Leadership) as part of the PMI Talent Triangle and network with our local project management community.
This in-person event will take place at the state-of-the-art Special Event Center (Austin Central Library, 710 W Cesar Chavez St Austin, TX 78701) in downtown Austin – parking and meals are included.
Program: "The Future of Project Management"
---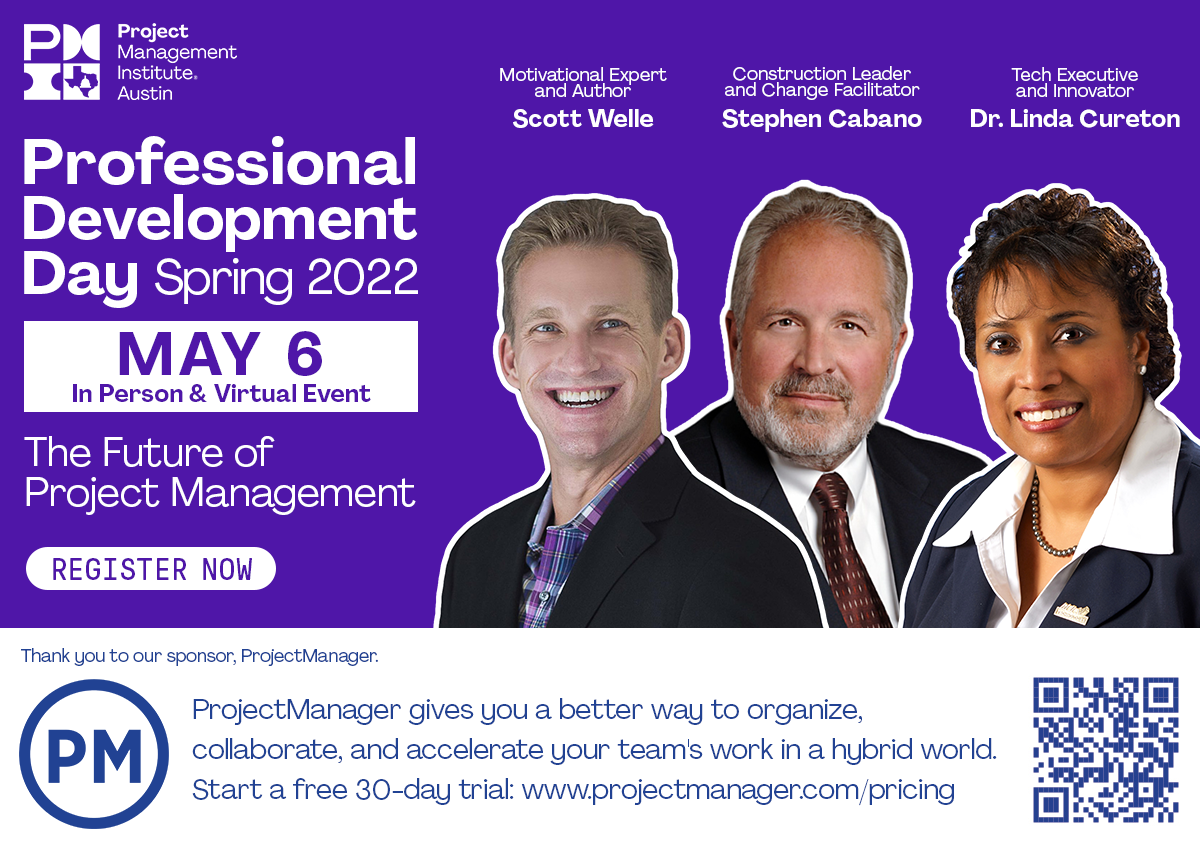 Agenda: 
Speakers:
Dr. Linda Cureton

Leadership Focus: The Odyssey from Technician to Leader

Dr. Linda Cureton is the former Chief Information Officer of NASA, a cabinet-level position with the US Federal government, and current CEO of Muse Technologies, a transformation and IT consulting firm.

Linda is known as an innovator and change agent with decades of executive IT experience, including positions with the Department of Energy and Bureau of Alcohol, Tobacco, and Firearms. She has received prestigious awards throughout her career, including being honored as Business Insider's 25 Most Powerful Women Engineers.

Linda has a BS in Mathematics from Howard University, an MS in Applied Mathematics from Johns Hopkins University, and a PhD in Organizational Leadership from the University of Maryland – Eastern Shore with dissertation research on leadership in complex organizations.

In her immersive Leadership workshop during our Spring PDD, Linda will explore the role of emotional intelligence in how you can pivot from being a good technician to a great leader. You will form a plan for preparing yourself and create a roadmap for preparing others to navigate this transformation, especially when leading in an environment of uncertainty.

Stephen Cabano

Technical Focus: Effective Change Management

Stephen Cabano is the President of Pathfinder, a project management consulting firm specializing in the planning, development, and execution of domestic and international capital plant construction projects.

With 35+ years of project engineering and project management experience in the industrial and commercial facilities industry, he has provided project related services in the Petroleum, Petrochemical, Chemical, Environmental, Pharmaceutical, Power, Mining, Renewables, Industrial and Commercial industries in the United States and worldwide.

Steve earned his BS in Mechanical Engineering from Villanova University and is a member of AACE International, AIChE, ASTD, SAVE, CII (former Chair), ECC (former Chair), and PMI. He's authored several articles for Chemical Processing, Cost Engineering Journal, Chemical Engineering, Refinery Today, and PMI.

In his Technical workshop during our Spring PDD, Stephen will start by communicating the change environment and process. Then, he will introduce an interactive series of change issues. You will collaborate in workshop teams to address the issues and present solutions—building your change management and implementation skills.

Scott Welle

Strategic Focus: Daily Execution. Extraordinary Results

Scott Welle is a best-selling author and founder of Outperform the Norm, a leading program for business leaders and athletes looking to raise their game and perform at the highest level.

Scott has 15 years' experience helping people "raise their game" through his books, articles, videos, podcasts, and online programs. He was recently named the 2021 Midwest Motivational Speaker of the Year.

Scott has a Master's degree in Sport Psychology and is an adjunct professor at St. Olaf University. He has completed 30 marathons, 5 Ironman triathlons, a 100-mile ultra marathon, and serves others by showing them how to tap into the mindset of challenging their self-limiting beliefs and aspiring to be their best every day.

In his interactive Strategic section during our Spring PDD based on his latest book, Scott will focus on the strategy of goal setting, the execution of goal achieving, and the psychology of aspiring to big things. You will learn strategies used by elite performers and top project managers to be your best and thrive in this fun, high-energy session.
Members and non-members are welcome to attend our Professional Development Series.
If you are a PMI member from another chapter, please register as a non-chapter member for this event and self-report your PDU credit. Masks are discretionary for the in-person event; PMIA will be following the state-mandated COVID-19 protocols. The in-person event will be recorded and streamed live with all interactive elements adapted for virtual attendees. 
---
Questions
For any issues with registration or questions about claiming PDUs, email VP of Professional Development.
It is no longer possible to register for this event